Plant Vogtle Simulator and Units 3 and 4 Tour – Wednesday, May 1, 2019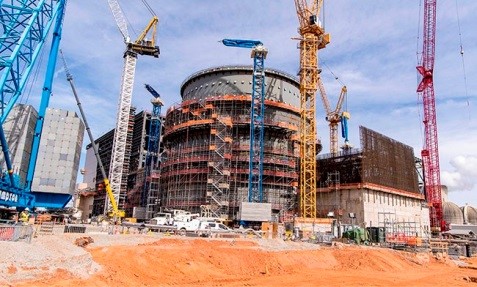 Unit 3 Construction at Plant Vogtle (February 2019)
A tour is planned of the Vogtle Electric Generating Plant's (VEGP's) Units 3 and 4 new power reactors in Burke County, Georgia on the Wednesday (May 1, 2019) of the PSA 2019 Conference. The tour participants will see the Units 3 and 4 simulator and the Plant Vogtle Education Center, and will do a drive-by of accessible parts of the building site. The AP1000 units are the first new nuclear plant construction in the U.S. in 30 years.
The tour will allow participants to see the modernized control room via the simulator that will be used to operate the two new reactors and better understand the enhanced safety features that are included in the reactor design.
The one-way drive time to the Plant Vogtle is estimated to be two hours and forty minutes (130 miles). Bus departure from the Marriott Charleston is at 9:30am, with the tour scheduled to conclude by 4:00pm. Return to the hotel is estimated to be no later than 9:00pm. The tour fee includes bus transportation, a box lunch, and will stop on the return trip for an on-your-own dinner at Taylor Barbeque restaurant, in Waynesboro, Georgia.  The Plant Vogtle Tour is limited to 40 participants.