PSA 2019 Historical Tour
Charleston Earthquake Walking Tour – Wednesday, May 1, 2019
The night of August 31, 1886 was exceeding hot, profoundly still, and had an almost-full moon in the sky. It was a normal summer evening in Charleston — until 9:51 pm, when one of the largest earthquakes ever recorded on the East coast of the United States struck the city (estimated moment magnitude between 6.9 and 7.3). Previous to that date, there had been very little known seismic activity in the Charleston area.
The conference has arranged for a narrated guided walking tour on the afternoon of Wednesday, May 1st, 2019 (the afternoon when no formal conference sessions are scheduled).  A licensed Charleston tour guide will enable attendees to grasp the terror of the event, comprehend the magnitude of the disastrous consequences, and appreciate the resilience of the people of Charleston.  Portions of steel structural elements used to repair damage to masonry buildings are visible in many older buildings in the downtown area. This is a special tour for conference attendees.  This tour (sometimes known as "The Great Shake – The 1886 Earthquake Tour") is not on the current regular schedule of Charleston walking tours.
We will use motor vehicles to reach the starting point for the tour. The guided/narrated walk will cover about 1.5 miles (with no steep grades), last about two hours, and end near a stop on one of the city's three free DASH bus routes.  Participants can use the free bus service to return to the hotel, or use the bus service (or walk) to other locations within the downtown area for additional sightseeing or dining.
Bus departure from the Marriott Charleston will be approximately 2 PM (exact time to be announced at conference). Total tour duration for the walk will be approximately 2 hours.  Allow another 30 minutes (approximately) for transfer back to the hotel.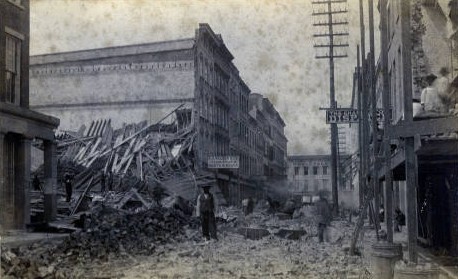 Courtesy of the Waring Historical Library, MUSC, Charleston, S. C.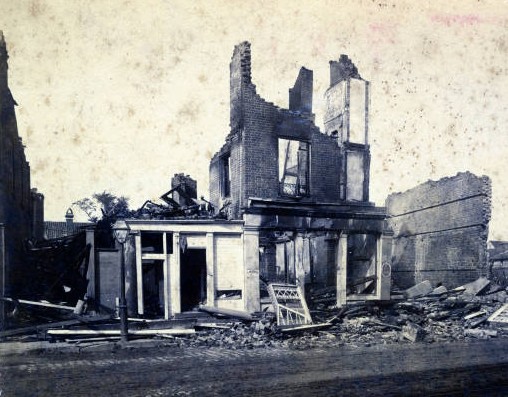 Courtesy of the Waring Historical Library, MUSC, Charleston, S. C.