PSA 2019 Technical Tour
Historic Submarine Hunley Tour – Wednesday, May 1, 2019
In February 1864 (during the US Civil War), the Confederate States Ship (CSS) H.L. Hunley became the first submarine to sink an opposing warship, the United States Ship (USS) Housatonic. Before the submarine could return to its base near Charleston, it disappeared with its eight-man crew off Sullivan's Island, S.C. The ship's fate was a mystery until it was discovered in 1995 by a diving expedition led by author Clive Cussler. Five years later, the vessel was lifted from the ocean floor and brought to the Warren Lasch Conservation Center in North Charleston, S.C., where scientists are working to study the small vessel and conserve it for future generations.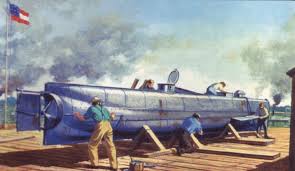 PSA 2019's attendees have the opportunity to take an optional private group tour of the Hunley's conservation facility on the Wednesday afternoon during the conference (May 1, 2019, the afternoon when no formal conference sessions are scheduled). In addition to viewing the world's first combat submarine, the tour includes artifacts found onboard during excavation of the interior, and exhibits describing the history of the vessel and its technology. The Hunley conservation center includes a small combination gift-shop/bookstore.   The tour includes round-trip transportation between the conference hotel and the conservation facility. The Hunley is normally open for general public tours only on weekends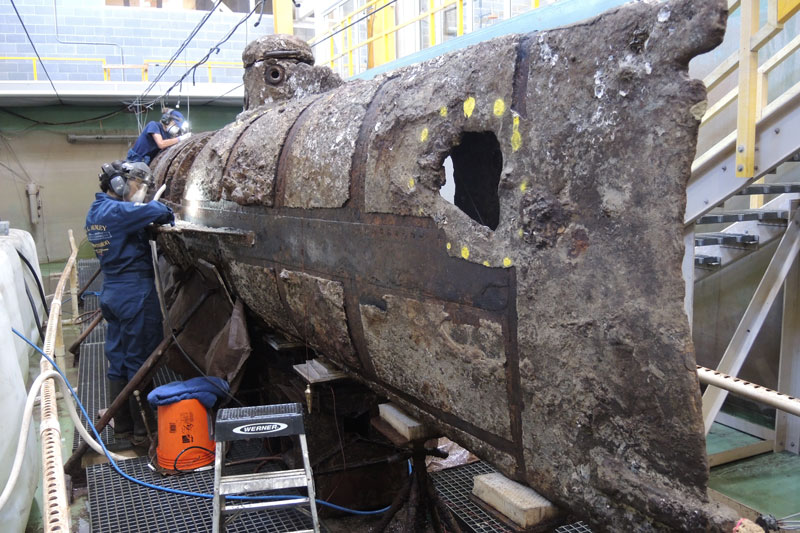 Digital photograph used with permission of Friends of the Hunley.
A visit to the Hunley conservation facility is a combined self-paced and guided tour.  The actual viewing of the submarine is in the guided portion of the tour, which lasts about 15 minutes and requires climbing a flight of 17 steps to an elevated viewing platform. The Hunley is normally submerged in a tank of liquid.  It is viewed from above, looking down into the tank.  The remainder of the tour is self-paced.  It covers artifacts recovered from the ship, historical and design information (including some interactive exhibits), and the fate of the crew.
Bus departure from the Marriott Charleston will be approximately 2 PM (exact time to be announced at conference). Total tour duration (including transit to and from Hunley conservation facility) will be approximately 2 hours.  Additional information about the Hunley  is available at www.hunley.org.